The file manager interface contains a number of different icons and menus. You can start it by opening the folder icon in the taskbar.

So let's take a look of what's inside.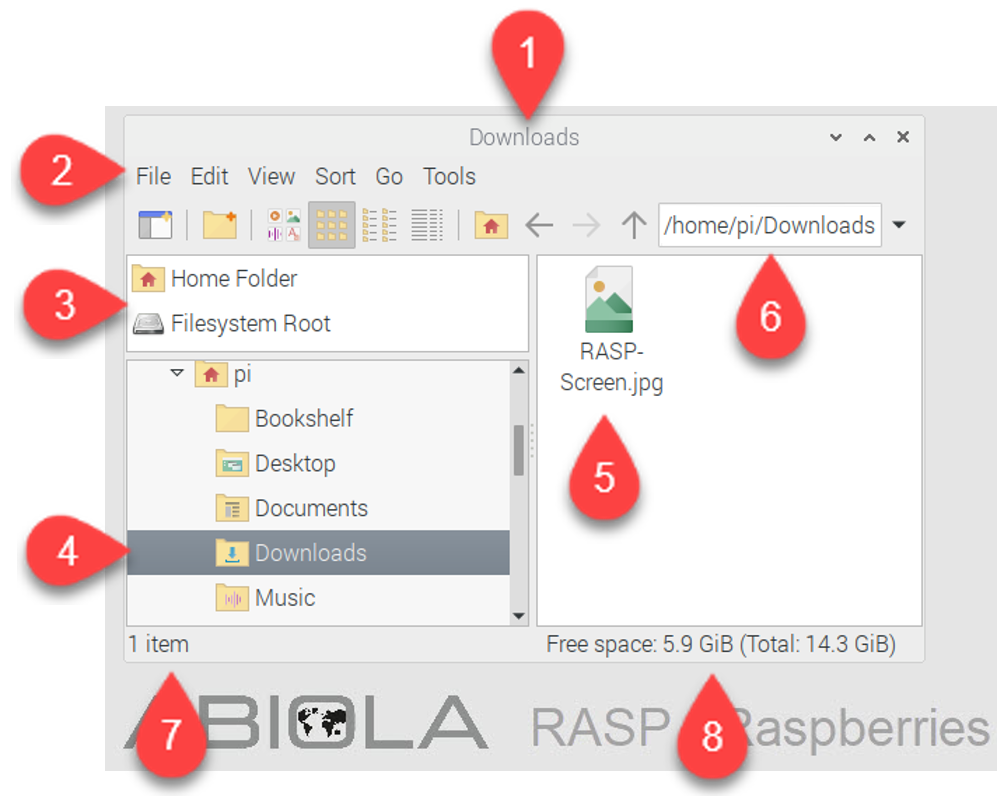 Here you can see the name of the currently open folder in the title bar of the window.
From the menu bar you can perform a number of different actions, such as opening new windows, creating new files, searching for files or changing the view of how files and folders are displayed. It also includes an array of icons that allow you to quickly switch between viewing options, create a new folder with only a single click of your mouse and so on.
You can also pin folders to the bookmarks section, so that you can find them more quickly in the future.
This area could be described as the explorer. It allows you to explore different directories, in order to find the required file or folder you are looking for. You fold and unfold these directories.
This section shows you all files contained in the currently opened directory or folder. New files or folders can also be added here.
This section contains the complete address of the currently opened directory in text format.
Here you can see how many files are contained in the currently opened directory.
Here you can see how much disk storage space you currently have available.
A small tip for creating bookmarks (see point 3): To create a bookmark for a folder, the folder can be pinned by clicking on it with the right mouse button and selecting the option "Add to bookmark".
And a small hint for the directory in text format (see point 6): If you know the path/address of the directory you are looking for, you can simply enter it here or copy/paste it and confirm with Enter.
Note on point 8: Try to set up your files and folders in a structured manner that can clearly be seen and understood by other users. This will also help you to avoid a cluttering up of unused files that will only waste disk storage space.